Cooks Villas – Cook Islands Rarotonga
Airfares (ex Auckland) to Rarotonga, return airport transfers, 7 nights accommodation in a studio villa. Complimentary snorkelling gear, reef shoes, beach towels, kayaks, sun loungers, BBQ area/facilities, guest laundry, guest phone, WIFI from all rooms, and tour desk.
The Cooks Oasis Holiday Villas are located in Arorangi, Rarotonga in the beautiful Cook Islands . Take just 60 steps to the white sand beach and clear blue lagoon (and no road to cross!). They offer one of the finest accommodation values on Rarotonga. Their secluded holiday Villa's with comfortable and stylish pacific rooms combined with the excellent location on the island and excellent service really are a winning combination.
They are the perfect destination for couples, families, family groups and of course surfers!
Surfing in Raro is still pretty underground at the moment, so crowds are scarce but waves are plenty! As there are no specialized surf camps/resorts on the island, the best way to set your self up is with standard hotel accommodation and to hire a car to travel to the breaks. The closest break is only a short 10min walk up the beach and she offers up some epic barrels! It breaks right on North swells and breaks left on South swells and is offshore during the trades as well!
Without giving too much surf info away- there are a number of other surf breaks around the island as Raro picks up both southern and northern swells. We can fill you in on the exact locations with tips and a detailed surf map too with your tickets.
During November-April, variable north-west winds take over from the traditional south-east trade winds which prevail during April-November.
Nearly all of the breaks in Raro are over coral reef and are best surfed at mid to high tide with a few exceptions on the eastern coast. Reef booties are also a great idea for this surf destination too.
There is a variety of accommodation options to choose from on Rarotonga with most of the hotels being situated right on the beautiful beaches.
The Cooks villas are located on the western side of the island- sheltered from the trade winds, on a beautiful white sand beach where the atmosphere there is peaceful and quite. The newly renovated villas are perfect for couples, singles, friends travelling together, families, and small groups.
Villas range from the lead in Studio, Garden, 1 bedroom and 2 bedroom options.
Their 9 self catering Villas are nestled within tropical gardens, our 2 bedroom Villa has views to the lagoon. Each has a ceiling fan and optional air-con (Studio Villa fan only) and can be set as either double or twin single beds. Each has its own bathroom, kitchen and private deck area.
There is also a central small pool, bbq area/facilities also available.
Enjoy the western, sunny and sheltered side of the island and watch the fantastic sunsets. Perfect for sunbathing, relaxing, and watching the whales cruise by (whales in winter only). For some action try out our kayaks, or go snorkeling and view the tropical fish (kayaks and snorkeling gear is free to use).
Grab a book from their library and put your feet up by the cool-off pool.
The main township of Avarua is only a 5min drive away and there is a regular bus service around the island. There are a number of restaurants/bars nearby as well as in town, so you either eat out or shop in town at the supermarkets.
DISCLAIMER
All prices are a guide only, departures ex Auckland and are per person, based on twin share and subject to change, availability and currency fluctuations. Surcharges may apply. Contact us for the latest specials and a quote for the dates you wish to travel.
Sights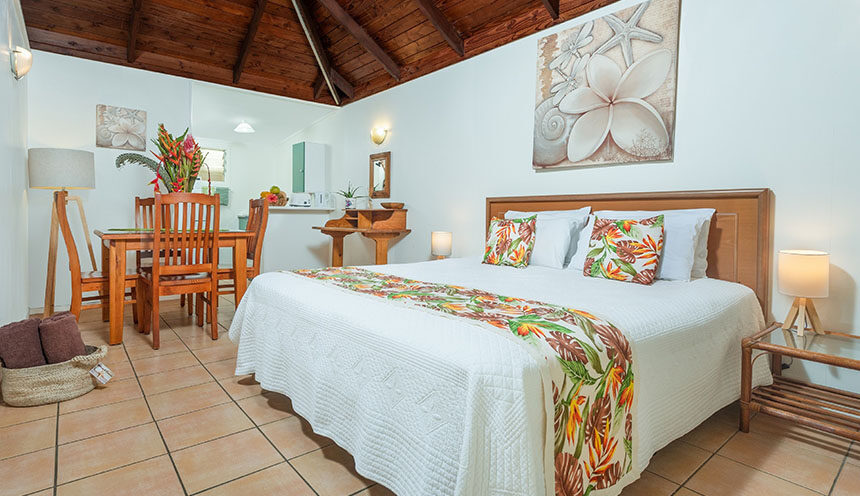 Location