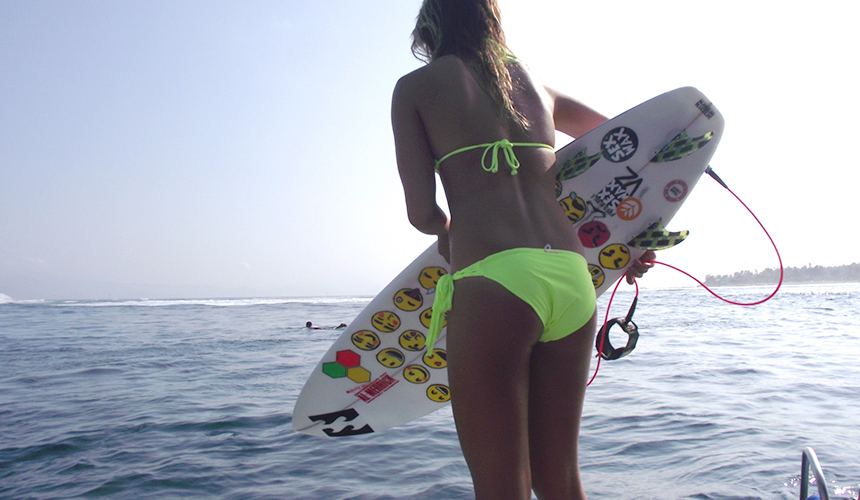 Includes: Bali transfers to the harbour, return speedboat transfers from Bali to Lembongan, 3 nights air-conditioned villa accommodation and daily breakfasts.
Nusa Lembongan is 20kms off Bali's East Coast and just an hour's boat trip from Benoa harbour (Scheduled ferry times depart early morning and return mid afternoon). It is a small island with local population of 4,000. Coconuts is a hillside resort built with sustainable materials, designed to blend in with the natural surroundings and reduce its environmental footprint. Consistently the most popular resort at Lembongan Island, Coconuts Beach Resort offers great value accommodation and friendly service…. As well as a perfect view and location overlooking the islands best surf breaks!
To the Northeast (of the bay) lie the popular surf breaks 'playgrounds', 'shipwrecks', 'Lacerations' and "Motags" that skirt the seaweed farms in front of Jungut Batu village. Below the water stretches an underwater coral garden far out to the island pass, with Bali's Mt Agung on the horizon. We can easily arrange a surf guide and surf transfers to the breaks too if you prefer.
Shipwrecks; This break is a right hander located directly out the front of the resort. It is best on mid to high and high going to low. The main take off point is a peak that jacks up in one section. This moves depending on the size of the waves. There is also another take off point further in. This wave jacks up with great tubing sections and fast walls to race through, the second section is a fun walling wave with also plenty of power.
There is also a left-hander that breaks in bigger swell just on the other side of the channel from Playgrounds.
Lacerations;  This break is located to the left of Shipwrecks around 500 m. It is a right-hand wave that works best right on the incoming tide, this wave can pick-up from 1 foot to 4 foot within half an hour of the incoming tides arrival. It's a fast takeoff that you will be able to drop sometimes straight into a barrel and then the wave tapers around the reef where you will get a nice wall that eases up on the outside of the wave. This wave is not so long but great fun. Be careful at low tide or going low tide as coral chunks and steel rods stick up from the reef base (this is a seaweed fishing area with steel rods that have been cemented into the coral)
Playgrounds;  This is a left-hand wave, that is a tame wave and can be good fun for all standards of surfer. This is to the left hand side of Lacerations.
Coconuts is a hillside resort built with sustainable materials, designed to blend in with the natural surroundings and reduce its environmental footprint.
And of course we feature all the creature comforts you would expect from a world-class resort.
The hotel or villas have wonderful ocean views. Enjoy the beautiful white sandy beaches at Lembongan Island Bay and the hollow surf breaks of "Playgrounds" and "Lacerations" almost in front. This island is a great hideaway for a romantic getaway.
All of the villas offer king size or twin beds in air-conditioned cooled rooms, each with spectacular views. The resort has 18 air conditioned individual luxury and 1 family villa, 2 infinity pools offering spectacular views of the ocean, bay and surf breaks.
Dine in the romantic three-level terrace restaurant that serves fresh fish dishes, Indonesian & quality western cuisine. For their guests they also have live acoustic music everyday as well. If you'd like to pamper yourself indulge in one of their traditional Balinese massage and body wraps or a Manicure and Pedicure treatment.
There's excellent Wi-Fi in all rooms and public areas and they can arrange tours around the island as well.
There are activities to do at Lembongan Island- you can snorkel or explore Ceningan and Penida Islands, take surfing or diving lessons with a qualified instructor, mangrove tours, a fishing trip by Jukung, push bike or cycling tours, Stand Up Paddle Boards, village tours and a massage services.
Packages
3 Nights from

$412

pp
5 Nights from

$604

pp
Longer stays also available
Children 5-12yrs
3 Nights from

$279

pp
5 Nights from

$421

pp
Longer stays also available
Children under 5yrs FREE
Sights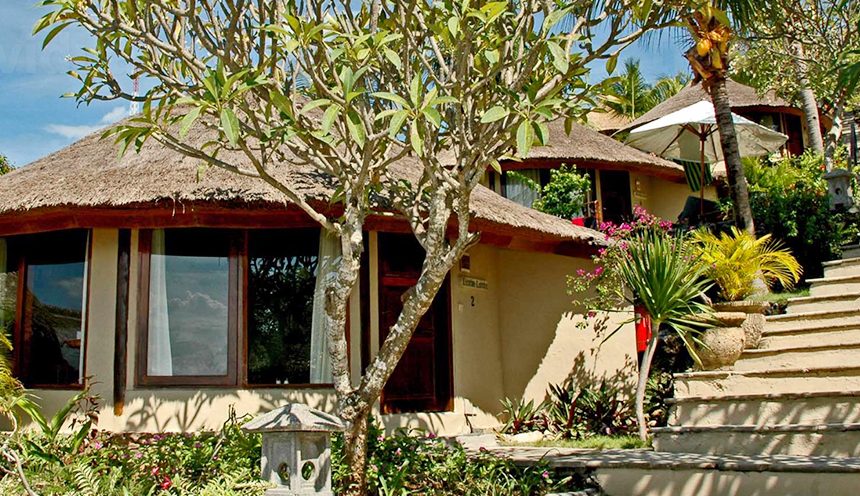 Location