Located on the tiny island of Asu in the Hinako island group in uncrowded Northern Sumatra, you'll enjoy some of the best surf in the world, right at your doorstep. Asu Surf Camp is well off the beaten track and has the best view and location on the island – right in front of the waves and sunset. You'll revel in some of the most uncrowded surf this area has to offer!
Includes: return flights from Medan to Nias, return car and boat transfers to Asu, 10 nights fan cooled bungalow accommodation, all meals, water/hot drinks, meals, surf/dive guide. Two surf sessions per day in the vicinity.
Asu is a 200m left hand point break with 3 different barrel sections that will present challenges to every level of surfer. There are 8 other surf spots in the area, all accessible by speedboat. Our two 6.25m moulded plastic speedboats with 40hp Yamaha Enduro outboard engines get us there. Included in your accommodation is access to other breaks when conditions are favourable for another spot.
Other than Asu, there are 5 rights and 3 lefts that work in different wind and swell conditions. Our goal for each day is to surf where it's offshore. Bawa, a deep water right hander, is a 25 minute boat ride south of Asu at the other end of the Hinako islands chain. We go to Bawa when Asu is onshore with West wind and it will be offshore there.
There are a handful of other reefs in the Hinako Islands that work on the right swell and wind conditions, you just have to know when they're on, and don't worry, cause they know! There are also other breaks on west Nias that are offshore almost every morning – thanks to the big mountains of Nias Island. We like to do sunrise runs to score classic green morning barrels, I think you'll like it too.
After arriving in Medan you will connect to a domestic flight to Nias. On arrival in Nias, you will be met by the Resort and transferred 2 hours overland to the west coast. From here you have a 45 minute boat ride to the Island. Once you reach the beach at Asu, you have a 15 minute (1km) walk up the point through the jungle to Asu Camp. They trolley in all of your gear down the single track path that leads to the point and our camp. And when you arrive Asu Camp you will be so ready to hit the lineup … or you might just want a cold beverage and some good food …
There are two types of accommodation at Asu Camp. Two "private bungalows" and the 'Big House' which has 3 rooms and 2 baths.
The private bungalow accommodation boasts 12m squared terraces facing the surf at Asu. The rooms are modest and accommodate 2 people in single beds or a couple in a double bed, on the highest quality firm spring mattresses, with shelving, fans, and power inside the custom fitted mosquito nets. The bungalows are equipped with AC and have water coolers for easy access to hydration. Each bungalow has its own surfboard rack and outside shower. The bungalows are on piers raised up 1-2m off of the ground, offering exceptional views of the surf right out front. There is a back gate directly to the bathroom and stairs to the front terrace.
The Big House: The Sunrise Room is a spacious room that can be set up for a couple or a small family of 3-4 people. It has an ensuite private bath, lots of windows, high peaked ceiling with open air windows to the East that let in lots of sunrise light and give amazing views. French doors that open towards the surf so that you greet the sea each morning and check the surf from the comfort of your bed.
The Sunset Room accommodates up to 2 people in twin beds or a couple in a double bed. The bathroom is shared and accessed through the living room.
The Loft is on the second story. The roof of the loft has 4 Nias style 'windows' that are actually the roof pushing up to open up a dormer style open air window, which offer a lot of ventilation and sweeping treetop views of the ocean in front. The loft can accommodate 2-3 people in single beds or it can also accommodate a couple in a double bed. The loft shares the bathroom downstairs that is accessed through the living room.
The Big House also has its own small kitchen with a refrigerator for easy access to cold beers and drinks, a water cooler, and a small round table and 3 chairs. The 20m squared Living Room in the middle of the house has a small library of books, an abundance of yoga mats, exercise balls and massage rollers, an Indo Board, and space to just hang out. The front of the Living Room has folding front doors that completely open up the front of the house to the wide terrace and the view of the ocean, offering the best view of the surf at Asu. The 24m squared terrace is the best place to sit back in a hammock or lazy chair and take in the view, check the surf, or eat the breeze and read a book.
The food is excellent. Fresh and plentiful every day, you won't go hungry. Breakfast is a selection of items from fresh fruit salads topped with grated coconut and roasted peanuts to Corn Flakes, or porridge/oats/mueslix with fresh papaya, banana and walnuts. You can also request eggs any way you like em, fried, poached, hard boiled or an omelette with cheese and veggies. If that doesn't do it for you, we also make pancakes hot off the skillet cooked up with cold pressed coconut oil and topped with maple syrup. Fresh bread is baked daily. Lunch is served family style at mid day and is different everyday. Dinner is also served family style after sunset at 7 and is different everyday. Our menu is diverse and delicious.
When they're not in, the surf guests can be found in the hammocks, yoga/fitness bungalow, snorkelling, visiting the tide pools, enjoying the pristine white sand beach, taking a walk around the island, enjoying board games, having bonfires on the beach, stargazing or visiting neighbouring Hinako.
Includes: return flights from Medan to Nias, return car and boat transfers to Asu, 10 nights fan cooled bungalow accommodation, all meals, water/hot drinks, meals, surf/dive guide. Two surf sessions per day in the vicinity.
Surfer & Non-Surfer
7 Nights from
Surfer & Non-Surfer
10 Nights from
DISCLAIMER
All prices are a guide only, departures ex Auckland and are per person, based on twin share and subject to change, availability and currency fluctuations. Surcharges may apply. Contact us for the latest specials and a quote for the dates you wish to travel.
Sights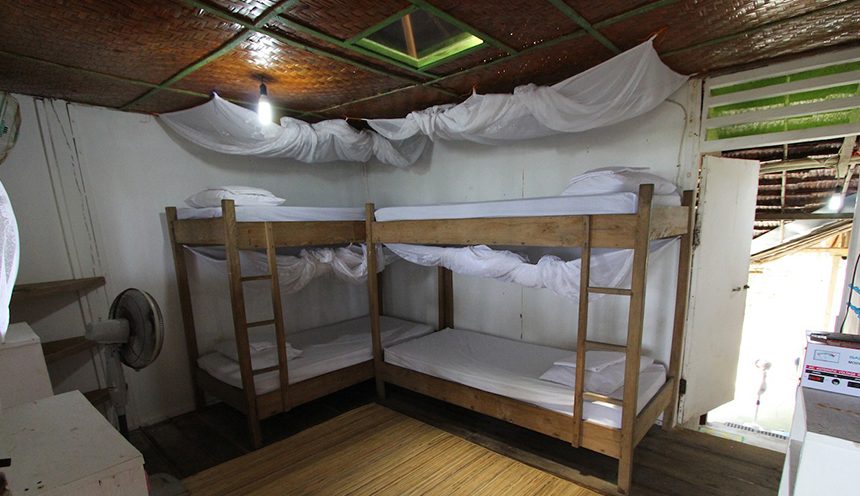 Location