Includes: airfares (ex Auckland) to Cebu, domestic flights Ex Cebu to Siagao Island, transfers, 7 nights accommodation and all meals.
Alon Resort (formerly Sagana) is located on the tiny island of Siargao, in the south-east of the Philippines, facing the swell rich Pacific Ocean.
Alon Resort brings you right at the doorstep of Cloud 9, its unbelievable waves, and so much more. Situated right in front of the infamous right-hander and surrounded by golden beaches and lush garden, the resort is set in paradise.
Siargao Island and its surrounding islands on the southeastern side of the Philippines are some of the most beautiful and untouched gems in the Pacific.
The best months for surf in this area are August through to the beginning of November. This is when they receive the most typhoon swells and the best winds. During May, June and July, the surf is generally smaller and less consistent, BUT when it's on the conditions are ideal. From December to April the winds are often strong and cross shore, BUT the swell is always pretty big and some surfers prefer this time of year.
The best wave is "Cloud 9" which is directly out the front (2 min paddle). This break is essentially an A frame- but the right is a barrel machine! The wave is a classic right hander that can be both fun and challenging. Although it is a relatively short wave, the fact that it barrels nearly the whole way guarantees satisfaction. Best surfed at mid to high tide and is a swell magnet.
There are 3 other waves (rights and left) within 5 minutes of the resort, and within 10 minutes by boat is "Stimpies" and "Rock Island" (USD$3pp) – two epic breaks!
The resort also has access to several other breaks within an hour's drive by car or boat.
Jacking Horse- A somewhat fickle right hander that can be really fun on its day. Dependent on swell direction, but when small is a great wave for beginners.
Tuason Left- Some consider this the best left on the island. Hollow and shallow and only good over 3 feet. Beginners need not apply.
Rock Island (Tuesday Rock)- Long fun forgiving right hander about a 10-minute boat ride from Alon Resort. When it is on, this wave is so much fun and as long as any on the island.
Stimpies-  World-class left hander, also 10 minutes from Alon Resort. This spot is EPIC! Big or Small Stimpies is what you picture when dreaming of perfect tropical surf.
Pacifico-  Another wave for the goofy footers. 1 hour boat ride from Alon Resort. Long workable left that works on all tides.
Within a 2-hour boat ride there are approximately 10 world-class breaks, which are always uncrowded and well worth the trip. There are also a few well guarded secret spots that can be found if you look hard enough.
Alon Resort offers accommodations closest to the centre of the action on Cloud 9, but provides you with the tranquil surroundings you need for proper rest and relaxation. Their restaurant serves some of the best food on the island, with the dinner menu changing daily.
Sagana resort consists of 6 individual cottages with self-contained bathrooms and caters for a maximum of 20 guests. Four cottages are fan cooled and 2 have air conditioning. The individual cottages all vary in size and are set in lush, tropical gardens. Bed linen, towels and mosquito nets are provided and cottages are cleaned daily. Each cottage has it's own large veranda and hammock supplied.
Sagana resort has the only swimming pool on the island and is available for in-house guests only. There is a shallow children's pool attached to the main salt water pool.
Cottage 1 has views of Cloud 9 surf break and accommodates 2 to 3 people in double beds with overhead ceiling fans. The bathroom has a shower with hot and cold running water, hand basin and a flush toilet. The roomy verandah has a hammock for lounging in.
Cottage 2 is a two-storey cottage which can accommodate up to three people. There is a king size bed that can convert to twin beds plus a lounge that can convert to an additional single bed if necessary. The room has an overhead ceiling fan and a balcony with views of Cloud 9 and large hammock. Downstairs has a shower with hot and cold running water, hand basin and compost toilet. There is an undercover open outdoor area for lounging
Cottage 3 is our largest cottage directly facing the Cloud 9 surf break. This cottage accommodates four people in two king-size beds which can convert to twin beds. The rooms have air-conditioning, overhead ceiling fans, and a spacious bathroom with shower with hot and cold running water, hand basin and flush toilet. The verandah has a hammock for lounging in while checking out the surf or lazing in reading a book or having an afternoon siesta
Cottage 4 has been built to cater to a family of four. The front room is air-conditioned, with a king-size bed which can also convert to twin beds. There is a separate fan room which has two bunk beds for the kids. The bathroom has a shower with hot and cold running water, hand basin and flush toilet.
Cottage 5 and 6 are both air-conditioned cottages and can each cater to two people in either king-size beds or twin beds. The bathrooms have showers with hot and cold running water, hand basins and flush toilets.
Boat to Sohoton caves, discover Sugba lagoon, learn how to surf, soak up the sun on the white sand beaches, reel in a marlin or tuna, or just read in a hammock. The main attraction, of course, is the stunning surf of Cloud 9, located steps away right in front of our resort.
Three island boat trip This is a half-day boat trip that encompasses three beautiful islands a few minutes from General Luna without having to go into the open ocean. First stop is Guyam Island, a leisurely five-minute ride from the General Luna pier. Guyam island is your classic uninhabited tropical island with a white sandy beach surrounding about an acre of coconut trees. This island was even featured on the cover of a previous issue of the Lonely Planet guidebook.
From Guyam you head to Daku Island, a much larger but equally as beautiful. Daku has a small town and covered picnic tables by the beach. There is a surf break out the front which is good for beginners and the island also has great snorkeling around the back so bring your goggles.
Another 5 minutes in the boat and you will land on Naked island. This island has no inhabitants or vegetation and you can easily swim around the whole island or walk around it looking for washed up shells.
The restaurant also contains a billiard table and ping pong table, as well as TV with DVD and satellite cable TV. Chess, backgammon and cards, and a variety of books are also available. Sagana resort offers more than perfect waves. Day trips to secluded islands can be arranged, or else hop on a habal-habal (motorbike) and travel around the island exploring.
Scuba diving, kayaking and fishing trips (bring your own rod) are also available.
DISCLAIMER
All prices are a guide only, departures ex Auckland and are per person, based on twin share and subject to change, availability and currency fluctuations. Surcharges may apply. Contact us for the latest specials and a quote for the dates you wish to travel.
Sights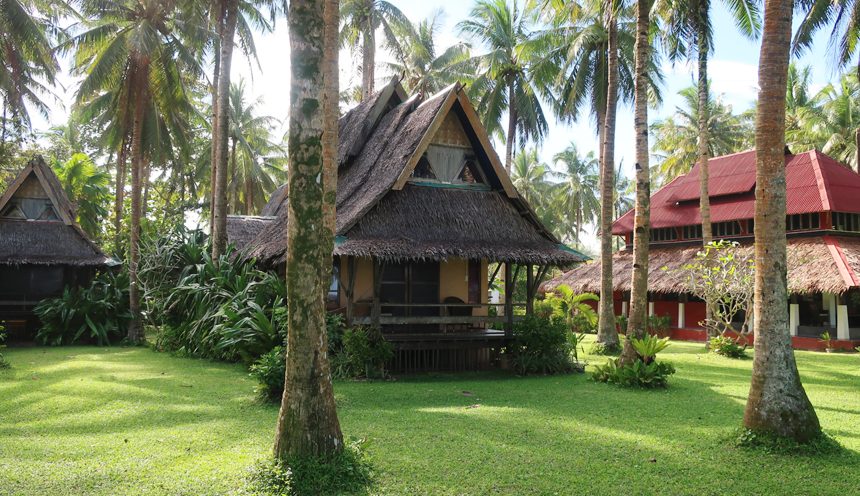 Location