Includes: Padang transfers, on-board air conditioned accommodation, all meals and drinks (including beer), airport transfers, use of fishing/snorkelling gear and USD$3 p/day Mentawai surf tax.

Launched in late 1999, Naga Laut has been continually upgraded by the owners making it a very clean, comfortable boat, with the interior beautifully finished in polished local timbers. Naga Laut has been designed exclusively for the more upmarket surf charters in the Mentawai Islands but without the huge cost.
They are flexible for the duration of the trip; from 7 to 15 nights and more. However, standard trips are 11 nights. The captain has worked, studied, travelled and surfed in Indonesia for many years and knows the islands like the back of his hand!
You have seen the flawless waves in mags and vid's… The Mentawai Islands attracts swell all year round with more perfect peeling left and right-handers in one region than anywhere on earth.
Situated roughly 100 km off the west coast of Sumatra on the equator, these pristine islands are amongst the most beautiful in the world with four large islands making up the Mentawai archipelago, surrounded by many smaller ones. The charter heads to the breaks which are firing and the generic route is out to the H.T's area then further South down to
Thunders then back up passing Macaronis towards the Playgrounds area. Crystal clear water, golden beaches and palm trees line the shores with classic reefs, point breaks and beach breaks, which offer waves for ALL standards of surfing ability.
Depending on the season, waves vary in size from 2 to 12 foot with the average wave height being about 4-5 ft. (head ½ high or 8ft faces) they can range anywhere from fun sized walls to awesome stand-up barrels.
The wet season starts in mid-October and lasts until late March-April, with the swells dropping to a more comfortable fun size coupled with some of the most uncrowded line-ups. Winds during this time are variable and glassy. Check for the low season specials during this period.
April is the beginning of dry season, which coincides with the start of the swell season. The Southern hemisphere swells start pulsing up the Indian Ocean with peak swell season being June through to September. This period also sees the winds turn to a favourable easterly direction.
Air and water temperatures range between 27-30 degrees C all year round.
A spacious living area onboard with air conditioning, satellite phone, TV, DVD, VCD, WIFI, fridge, freezer, fishing and snorkeling gear.
Naga Laut has 4 comfortable two-bed cabins, and 1 big four-bed cabin, all with multiple power sockets to keep your laptops, phones and cameras charged, safe, and out of the way. On special request, Naga Laut can hold up to 14 surfers but sails most comfortably with 8 to 10.
A spacious living area onboard with air conditioning, satellite phone, TV, DVD, VCD, WIFI, fridge, freezer, fishing and snorkeling gear.
Meals aboard are amazing and consist of Indonesian, Chinese and Italian cuisine. Also included in the price are complimentary beers, juice and soft drinks. The crew is up at dawn preparing your breakfast down below while you get out there on the dawn patrol. Bottled water/snacks are always on hand. They have a new aluminium speedboat with a 120Hp on the back. She has also equipped with all the safety gear.
High Season Exclusive Charter


$5461

pp based on 8 pax


$4871

pp based on 9 pax


$4413

pp based on 10 pax
Individual Bookings


$4708

pp
Low Season


$4642

pp based on 8 pax


$4133

pp based on 9 pax


$3749

pp based on 10 pax
Individual Bookings


$3985

pp
DISCLAIMER
All prices are a guide only, departures ex Auckland and are per person, based on twin share and subject to change, availability and currency fluctuations. Surcharges may apply. Contact us for the latest specials and a quote for the dates you wish to travel.
Sights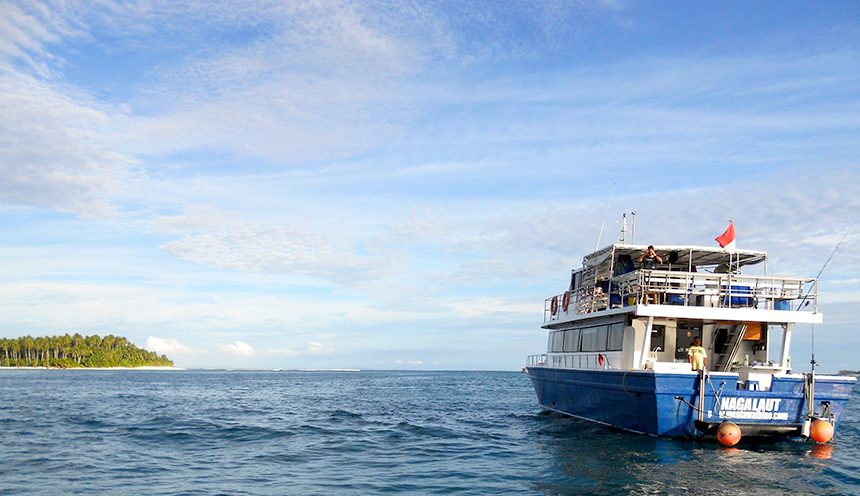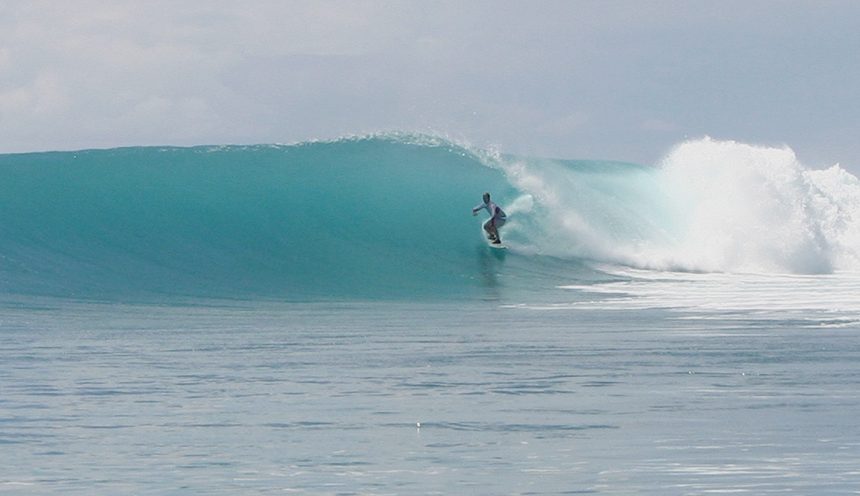 Location